The implementation process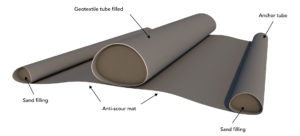 Definition of a geotextile tube
It is a geosystem dedicated to marine applications. It consists of two geotextile envelopes. The outer envelope is a woven geotextile and the inner one is nonwoven, with filter openings to be adapted according to the nature of the filling sand.
INTERNAL MATERIALS NEEDED
Diving equipment
Toyo DP 50 + DP 30 back-up pumps
Traso-1 Pontoon
VICTOR -1 support boat
A boat equipped with an arm
HUMAN RESOURCES
Team of 5 Class 2 A scuba divers
Pontoon crew
Crew of the tug
PRELIMINARY OPERATIONS RELATED TO EQUIPMENT
Verification of diving equipment
Preparation of small installation equipment
Pontoon movement
PRELIMINARY OPERATIONS RELATED TO THE WORKSITE
Marking of the laying area
Installing the anti-scour mat
Checking the weather
Checking the number of the geotextile tube
Laying of mats
Once the anti-scour mat is in place, it is possible to start laying the tubes. These are laid in pairs for the purpose of staggered positioning.
The installation is carried out using the Traso-1 pontoon equipped with a GPS satellite guidance tool (DGPS), as before, for the laying of mats.
Laying of the tube
The divers, after having positioned the tube, begin the assembly of the pumping connections on the four geoports to fill the tube with sand.
On the bridge of the pontoon, a system of valves and T allows the tilting of pumps from one geoport to another and regulation of the flow of sand into the tubes.
The filling time of a 30 metre tube is estimated at between ten and twelve hours. The height adjustment of the device is done by operating the valves or the total shutdown of one of the pumps.
During the filling, the divers check the fitness of the device and unlock the attachments as required according to progress. Once the geotextile tube is filled, the divers disconnect the geoports and block them with blank taps.
The operations are thus repeated in the same way for the second tube laid in parallel. For its positioning, it is bound to its twin.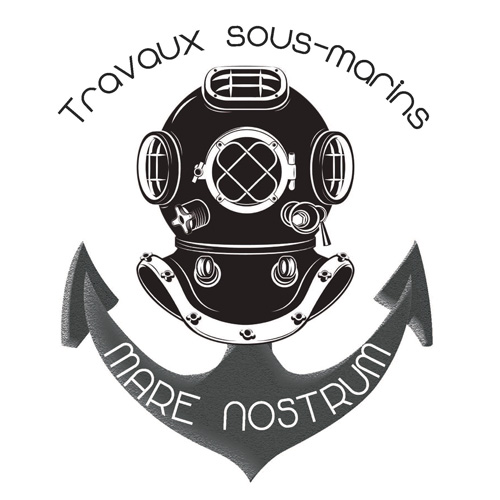 Current and upcoming projects
Maritime development work ont the coast of Sainte-Maxime